---

18.07.2010
Interview with Khachatur Badalyan.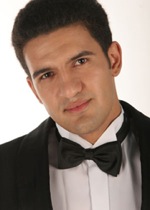 Today we offer our readers an interview with the winner of the Third International Opera Singers Contest of Galina Vishnevskaya Khachatur Badalyan – the young tenor, well-known Moscow audiences by his performances at the Bolshoi Theatre and the New Opera, "which he is a soloist.
Tell us how you came into the profession?
I started in Vladikavkaz, where he was born and lived until the age of fourteen. There I studied painting at the Lyceum Arts, combining with general education, where talented children engaged in various kinds of creativity: music, dancing, painting. I even had solo exhibitions, and I have it turned out, and few doubted that I would become a true artist. If we talk about music, it always sounded in our house. Mama, having no professional education, played the piano and on all domestic holidays was played popular music and classical – in the performance of my sisters – violinist, who has received professional musical education. But I have no interest in music did not show, did not play any instruments, the music school is not studied. In 1994, he heard a concert of the Three Tenors (Pavarotti, Domingo, Carreras) dedicated to the World Cup, I first learned what an opera classic. Perhaps this influenced my destiny.
In 1996 our family moved to Rostov-on-Don, where I went to art school some other level. Such attention, reverent attitude to the future talents, focus on their full development, there was no – there simply was taught to paint. And one time I lost interest in drawing, because there was little creativity. I decided to completely change their ways, became fascinated languages, went to study in high school with an economic slant, ending it with a silver medal. There was an opportunity to teach English and French, is very serious level was given to mathematics. Despite the fact that I have been quite different things, music parallel still present in my life. I have to operatic singing had nothing to do, although after the concert, the tenors became interested in this music, but still closer to me then was jazz. It all began with songs performed by Frank Sinatra. I liked his songs yet, because I taught him in English. We began with her sister often playing music at home: guests came, I sang for them, my sister accompanied on the piano, and gradually it came into my life. I never thought that this could become my profession. The first who made the assumption that there my instincts opera singer, was my father. He gave me records to listen to Mario Lanza, his favorite singer, and I began to try to emulate the academic singing. Something worked. I began studying with a teacher in Rostov, though, it was not so much training equipment, as general familiarity with the profession, with a repertoire. When I realized that the voice of developing and that he needed more technical basis, I became more serious about it to think. A little later, in parallel studying to be an economist with a degree in International Economics Don State Technical University, graduating with honors, I entered the conservatory, first on podkurs, he did not know of the musical school. And I had boosted learn all the things that children vaccinated at a music school in seven years. I am very handy my mathematical knowledge, the first time I literally proschityval many things that could not yet to master as a musician.

It was hard to parallel study in two universities?

Yes, hard, exams coincided classes, a lot of energy to spend on something to do everything.

You have to catch up in my childhood – I mean the music database?

I have a good ear, by nature, he saved me in many ways. Some things that I do not know exactly compensated for good hearing.

I was very lucky with the teacher – in the Rostov Conservatory, I studied with Valery Kostin, a tenor who sang more than 15 years in Europe. He is absolutely a European man in his ideas about art in general and the vocals in particular. I am very much of it received at the initial stage of training in terms of some guidance and understanding of art. After him, I have always played with Natalia Petrova. I owe this man for all that I know now about the vocal technique

In Rostov, studying at the conservatory, I worked in parallel with the orchestra of folk instruments by K. Hurdoyana. With them, I toured a lot in the Rostov region, singing hits of the Italian repertoire, Russian folk songs, songs of the war years. Learning from the first year of the conservatory, he was invited to sing Fenton in "Merry Wives of Windsor" by Otto Nicolai in research performance conservatory opera studio – it was my first stage experience at the opera.

And how did the Moscow?

I have had friends who studied at the Opera Centre G. Vishnevskaya. They advised me to go audition. Without completing the first year of the Rostov Conservatory, I went to Moscow to play and sing at the Center. Sang adequately, but an invitation to train for free, however, not received.

Disc with recordings of opera arias in my performance, thanks to friends of his father, listened A. Lander, head of the Foundation. Dunayevsky who took me under his wing. She organized my audition at the Moscow Conservatory, and the Institute. Gnesinyh where all enthusiastic about my vocal abilities, but offers training on a fee basis, because This is the second higher education. My family could not afford it, as my parents: my father – professor, candidate of technical sciences and mom – head of regional statistics, were not able to pay for my education. Then A. Lander has included me in their fund. Dunayevsky, I began to receive a scholarship and had the opportunity to take part in concerts organized by the Fund. At one of these gigs I remarked a journalist, who gave me the phone Vladislav Piavko, referring to his project "Parade of Tenors." At the audition I sang the aria Werther. After that, Vladislav Ivanovich invited me to participate with him in concerts. For the first time with the "Parade of Tenors" I spoke at a concert dedicated to Victory Day, we sang songs of the war years. With the "Parade of Tenors" We had numerous meetings in Moscow, in Russian cities in Romania. In the theater, I still was not singing, there were only some one-off projects. For example, I was called to the Lipetsk Philharmonic, where I sang in the Young Gypsy Aleko Rachmaninov.

And in Rostov You do not interact with the local opera?

I was invited to the Rostov Musical Theatre, but Valery Kostin, who sang there a few performances, did not advise me to go there to work. He guarded me from undue stress, which usually faces a young, still inexperienced singer, getting to the theater. I missed then work with the orchestra of folk instruments, where I could gradually get used to the scene. I've gone to this theater as a listener, he knew the whole repertoire, listening to a lot of time all the singers, to analyze what from whom, and why is obtained or not obtained.

What happened next in Moscow?

I spent six months in Moskontsert, later heard in "a new opera." I immediately offered to sing Lohengrin from the opera of Wagner at the premiere. It was the first Lohengrin in Moscow for 70 years and also my debut in the capital.

After a couple of months after its premiere Makvala Kasrashvili, head of the Bolshoi Theatre Opera Company, invited me to audition for the Bolshoi Theater. I was offered to sing Rodolfo in "La Boheme" and Vaudemont in Iolanta. Both parties in my repertoire was not only an aria from them, had to learn very quickly. My debut at the Bolshoi Theater was, and my debut party Rudolf.

Your favorite party.

Rudolph is right for me perfectly, but, unfortunately, "La Boheme" is not in the repertoire of "New Opera" at the Bolshoi she also is rare. I also sang all the party in Novosibirsk. Among the favorite parties in the "New Opera" should be named Alfred in "La Traviata". Like to sing Verdi, Puccini, happy to try to belkantovom repertoire in such parties as Edgardo in "Lucia di Lammermoor," Nemorino "L'Elisir d'Amore" by Donizetti. I'd love to sing Lensky.

Not afraid to go out on a huge stage Siberian Coliseum?

Frankly, that no such pleasure as I got from singing it at this stage, I have not experienced anywhere else. I felt very comfortable out there, there is a kind of acoustics, but it makes you sing correctly, competently weighed supply of breathing, voice. This is a very rewarding experience.

Do you have a repertoire of Russian parties. It is hard to sing Russian opera?

In my repertoire of course there are Russian opera. This is Vladimir I. from the opera "Prince Igor" by Borodin, Vaudemont of Iolanthe, Charles VII of "Orleans virgins" by Tchaikovsky, Young Gypsy from the opera Aleko Rachmaninov. Sinodal from the opera "Demon" by Rubenstein. Sing the Russian repertoire is not just because of the specifics of the phonetics of the Russian language there is a danger to sing wider than necessary. But the beauty of music, poetry, drama, depth of feeling can not help but fall in love with himself any artist. Not for nothing the Russian operas are masterpieces of world opera.

Your attitude to the director's innovations?

I do not like being away from the meaning of the work. When the hero sings "I love you", and directed the viewer actually slips a stage setting, it sounds like "I'll kill you" or something like that – it is fundamentally wrong. Often, filmmakers too want to show themselves, not the product that put. For the sophisticated audience it may not yet be so bad, but beginners are definitely not attracted to the genre, and deters from it.

What would you on the stage they have done absolutely would go into conflict with the director?

I would not do something antiestetichnogo, ugly, devoid of meaning on the stage. I hate vulgarity.
Did you participate in contests, including the last competition of Galina Vishnevskaya, where they took the Grand Prix, which we congratulate you. Which of the statements most memorable?

Likely, tenor competition in St. Petersburg memory of Luciano Pavarotti, where I also managed to win first prize.
Interviewed by Aleksandr Matusevich